Orpington Scorpion Explorer Scouts
Expedition to Canada August 2019 – Outline Programme
Tuesday 30th:
Leave Gatwick North 0950, Arrive Halifax NS 12.45 (+4 hours time difference). Public
transport to university-style accommodation. Settle in.
Wednesday 31st:
Sightseeing in Halifax
Thursday 1st:
Morning checkout. Further time in Halifax. Depart 1905 for Thunder Bay ON via
Toronto. Arrive 23.55 (+ 1 hour time difference). Church Hall accommodation
Friday 2nd:
Civic reception at City Hall at 10 am. Shopping, A bit of sightseeing of the South Core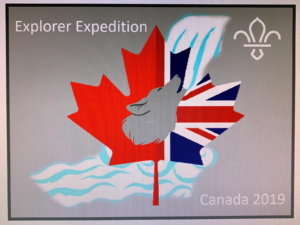 before setting out to Grey Wolf, set up camp at Grey Wolf.
Saturday 3rd:
Activities at Grey Wolf. Get equipment ready for following weeks activities. Do some
site clearing or other jobs at Grey Wolf, preferably with some 178th Thunder Bay Scouts/Ventures.
Sunday 4th:
Morning service at St Pauls. (optional, but pancake brunch offered after). After lunch
travel out to Dog Lake Cabin: Main activities canoeing and hiking.
Monday 5th:
Return from Dog Lake late afternoon.
Tuesday 6th:
Fort William Historic Park experience. This is an overnight experience of life in furtrapping
days. You will visit the park, do some canoeing and learn some new skills. We will be at
Fort William from 1 pm to noon on Wednesday.
Wednesday 7th:
Return from Fort William. Some city visiting during the afternoon.
Thursday 8th:
Divide into two or three groups and do a hiking trail in to Kakabeka Falls park and set
up camp overnight.
Friday 9th:
Hike to agreed pick up point midday, afternoon tubing down the Kaministiquia river and
a Stanley Burger, then out to Grey Wolf.
Saturday 10th:
Morning prepare for afternoon activities. Afternoon games and activities for 178th
Thunder Bay Cubs, Scouts and Ventures at Grey Wolf followed by a barbecue for all.
Sunday 11th:
Up early, pack, clean accommodation and to airport for 10 am. Flight 11.50 arrive
Toronto 1350. Transport organised to student dorm-type accommodation. Buy food, settle in.
Monday 12th:
Day sightseeing in Toronto.
Tuesday 13th:
Check out of accommodation by 8.15. Pick up by private tour bus for an all-day tour
to Niagara including a boat cruise to the base of the falls. This is al all-day tour and we return to Toronto airport by 1830 ready for our final flight departing at 20.45.
Wednesday 14th:
Arrive Gatwick North 9 am (5 hours time difference)